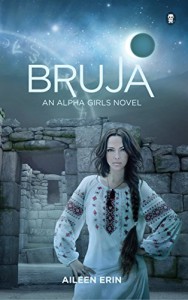 Synopsys:
Claudia De Santos has always looked out for every witch but herself. She fought from the shadows as her coven turned dark, and with a little help from her half witch/half alpha werewolf cousin, Tessa, Claudia is doing everything she can to keep her friends and family in the light.

Now the coven has splintered into two factions: Luciana's army of witches wielding dark magic, and Claudia's few stragglers who fight with the wolves. War is coming, and it won't be much of a battle if Claudia can't find the spells to counteract Luciana's demonic power.

The answers lie in ancient magic, and Claudia must journey to Peru to rediscover what the Inca mages knew. Fighting evil will require a pure spirit, but her quest is full of temptations, including a handsome Peruvian guide with secrets of his own.

As she struggles to gain the knowledge her friends will need in the coming battle, conflict rages in Claudia's heart. Following through with her arranged marriage could bring hope and more allies to the side of good, but at the cost of her own happiness. Should Claudia stay on the same path of duty she's always walked or risk it all—her life and the futures of all brujos—for a chance at something more?
"I received this from netGalley in exchange for an honest review. This is in no way affected my opinion of the book, or the content of my review."
Review:
Obsessed is an exaggerated word to describe my feelings for this series however if you tell me that your favorite genre is paranormal this would be the first book series I would recommend you and I would shove it constantly in your face until you read and love it as much as I do, like I LOVE IT ! Literally! So should you!
So this book continues where the last book stopped however instead of Tessa we follow her cousin (who is a witch) all the way to Peru and meet hot dude there, I'm not going to speak much of him so you won't be spoiled, *whispers* ageless and swoon worthy, that's all you need to know *wink*
Honestly, I really enjoyed this one, Claudia is a character that draws a person to their mind and heart she's naïve yet very intelligent, We follow her character development until the very last page, she grows so much that I feel very proud of her and what had become of her although I still don't know if she's going to take that last step or not, it just makes me want to know more about her side of the story-, we get to know more about witches ancient life….
It does not solve much of the initial problem (the wolf war) as it does the witches side, they are working to break their bound to Luciana, and Claudia is expected to save everyone because of what she represent and her -of course- unimaginable powers, Then on we start the adventure from there until we come back to start point with more solved problems.
Overall I loved this book so much, so If You are a werewolf, witch, vampire… whatever paranormal YA lover then this series should be Number ONE on your Must read!!!
About authors:

AILEEN ERIN

Aileen Erin is half-Irish, half-Mexican, and 100% nerd—from Star Wars (prequels don't count) to Star Trek (TNG FTW), she reads Quenya and some Sindarin, and has a severe fascination with the supernatural. Aileen has a BS in Radio-TV-Film from the University of Texas at Austin, and an MFA in Writing Popular Fiction from Seton Hill University. She lives with her husband in Los Angeles, and spends her days doing her favorite things: reading books, creating worlds, and kicking ass.